Cottonwood Shanty
Alyssa Eliot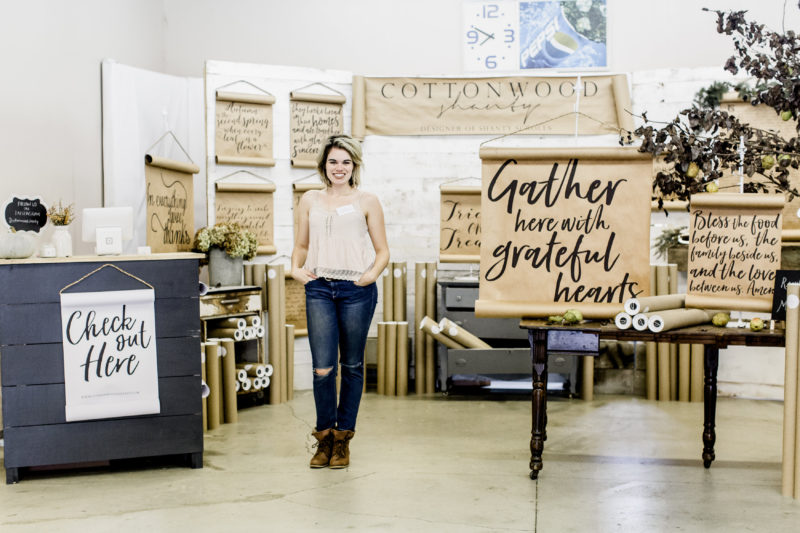 Tell us about yourselves and what you do…
I'm Alyssa and I'm a scroll roller, wedding photographer and dreamer. My husband and I live in the countryside of Amish Country where we are currently constructing our next home. I love listening to romantic- classical music while meandering around the flower garden. I'm humbly grateful that I'm able to create art as a full time profession and share it with all of you. 
When did you first think of selling your craft?
2 years ago I had the idea of making paper scrolls. I wanted something simple, classic and timeless and that's when I came up with the scrolls. The ADITC holds a special place in my heart because it's the first show I ever attended as a vendor AND it was the first show I had released my paper scrolls at.  
What advice do you have for folks wanting to begin exploring their creativity?
Just make it happen. I believe fear holds a lot of us back but when we throw those lies out the window and just start creating- real magic happens. Don't let fear hinder the ability to show the world what you're capable of! 
Is this your full-time business or a something you do on the side?
Aside from designing and rolling scrolls, I'm a wedding/commercial photographer. Eliot & Company is where I share my imagery, ideas and glimpses of my personality. 
Where do you create?
I create and package in a small home that is conveniently beside our home. I'm able to work and dream up plans there. 
What has been the highlight of your career so far?
Seeing my ideas and works in others homes across the states! It's so rewarding to see my customers get excited about my ideas and products. There's so much joy in my heart when I am able to see scrolls hanging on the walls in y'alls homes. 
What would you like to try one day?
Painting/sketching more often! I find it so romantic using the brush/pencil and though I've done some in the past, I would love to devote more time to the art. 
What are your social media pages & contact information?
Cottonwood Shanty on Facebook, Instagram and Pinterest! You can find all of my works and blog updates on www.cottonwoodshanty.com. 
Are you a one woman/man show? Who assists you, who is on your team? Who supports you?
Though I'm a one-woman designer, I couldn't do my works without the support of my mom. She helps at mostly all my shows, package during busy seasons and is all around so supportive and loving. My dad and husband are the muscle and extra hands behind the scenes. 
Follow Alyssa here:  Instagram