Meet Taylor
Flipping Vintage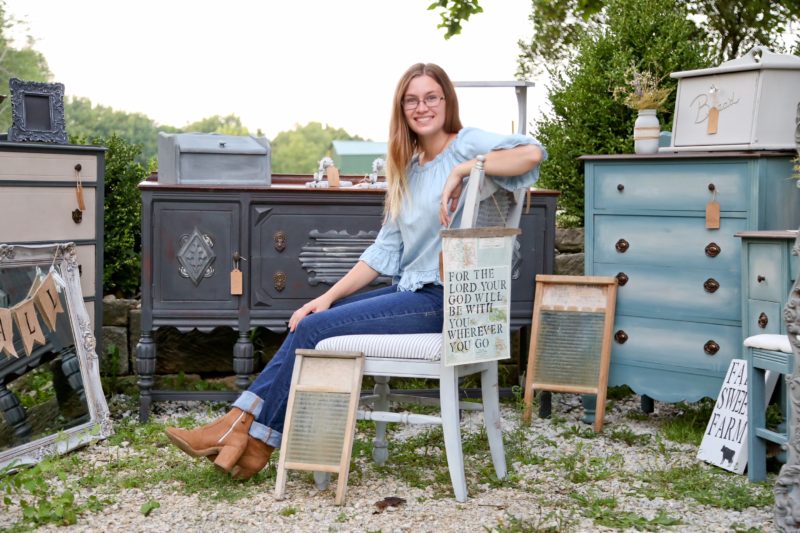 Tell us about yourselves & what you do.  
Hello everyone, we are a woman owned & operated home-based business located in Suffield, Ohio. We specialize in refurbished furniture, antiques, & handmade items. Most of our items are unique and one of a kind, not because they are antiques but because each piece is hand painted to be unlike any other.  
Is this your full time business or something you do on the side ?  
I am a stay at home mom, I needed something to do other than my motherly duties (all my moms out there you know what I mean.) At first it was just a hobby, on the weekend pick a piece of furniture up, paint it & get rid of it. Now my garage is packed full of rows of furniture that are both unfinished & finished. Every weekend I'm picking up truck loads of furniture from multiple places all over Ohio. I would consider this to now be a full time business because I like to put my heart and soul into everything that I do.  
 How do you make time to create?  
 Since I am I stay at home mom of one child it is easier for me to find time to create. My daughter usually plays next to me in the garage while I'm working, and sometimes even attempts to help (she's almost two lol). If she's not next to me she's usually taking a nap that's when I get most of my items done.  
 What are some of your favorite tools/supplies?  
 My favorite kind of paint are chalk/clay based, I think they are easier to work with and gives the texture/ look that I want to achieve on each individual piece that do. Chalk paint is different from clay paint. Clay paint has a thicker consistency and covers better than most chalk paint. I'll use my clay paint when I blend colors so I do not need to go over with another coat of paint which makes it easier for me. Chalk paint is amazing also, you can literally paint anything with this if you seal it correctly!  
 What do you have planned next ? 
 I've always wanted to own my own vintage shop. Hopefully in the near future I can achieve this goal & have all of my furniture and antiques on display instead of being in my garage.  
 Do you offer workshops/classes? 
A lot of people ask me this question, as of now I do not. I would love to offer this in the near future to help everyone who wants to learn how paint furniture. When I do decide to offer classes I will post it on my Facebook page that is where you will see it first!  
Follow along with Taylor with the links below, and meet her Sept 29 + 30 at A Day In The Country!
Facebook: https://m.facebook.com/FlippingVintage76/?ref=page_internal&mt_nav=1 
Instagram: https://instagram.com/flipping_vintage76