Hi my name is Vivian Brinkman, owner and creator of The Bohemian Mama. I lovingly hand craft personal care products and remedies. I only use the finest natural moisturizing oils, butters, minerals, herbs and essential oils. Each product in my growing line has been created to be effective in healing and soothing each member of the family.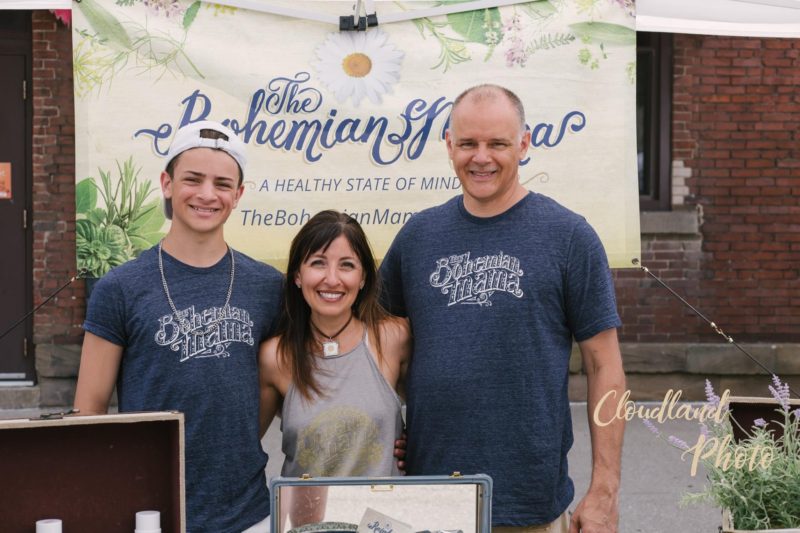 I am the proud mama of two Amazing High School boys, and the wife for 19 years to a FABULOUS freelance graphic designer. We are two creatives working together from home, managing two small businesses and supporting each other's passion. With our boys growing up and preparing to leave the nest …  my days as a 'stay at home' mom needed to come to an end. So I took my passion for cooking, creating, loving and empowering people to the streets. I wanted a brand that not only was about natural living, but also empowered others to live their best, healthiest, and happiest lives. The last 5 years have been spent studying herbs, minerals and essential oils. I have always been a believer in natural remedies and using food as medicine, but now I found my passion! 
And I do this with my family by my side, they are my team.
 From branding, promoting, labeling, and working the markets, I couldn't do 

any of

 this without their help. 
Combining our love of wild crafting with a heart to serve, we donate 10% of all sales back to our community to empower women.
I am inspired in all that I do by my desire to keep learning what our bodies need to stay balance and healthy. While I was always careful about what went in our bodies, I soon realized I needed to refocus on the personal care products we all put on our skin; after all, what we put on our skin absorbs into the blood stream. After just a little research into the products in our cabinets, I was shocked by the ingredients in deodorants many of us buy without even thinking. I decided that if I didn't like the options, it was time to make my own. But rather than create a deodorant that simply keeps the body smelling fresh, I saw this an opportunity to add minerals that 80% of Americans are deficient in – like magnesium. We add this mineral to many of our products including our body butters, and Arnica Pain reliever. We also make many wonderful herbal remedies that aid or support the body in some magnificent way.
My advice to some one wanting to explore your own creativity would be JUST DO IT! Don't let fear, what others think, or insecurity stop you. I tell my boys to do things that petrify you everyday! I had to lead by example in many ways. Learning to swim at 35, or overcoming my nerves after I was asked to speak at Walsh University about my business when I barely had a year under my belt. I realized that we all have more to lose if we fail to try. All the greatest entrepreneurs or inventors failed a dozen times before that ONE thing set them apart.  After trying different products, fine-tuning our designs, and recipes, and constantly evolving as a business, we were extremely proud when my husband and I came as guests to A Day in the Country in 2016 and vendors in 2017. It was a lot of hard work, but we came a long way in such a short time.
Our goal for the near future is to rebuild a 27' trailer to continue to grow our business. Our vision is to make the inside of it look like a traveling boutique and apothecary in the trailer, allowing us to travel to different states to share our line and see the world together.  Our products are really just a platform we use to educate and share our passion for finding balance Body, Mind, and Spirit. Our mission is to
INSPIRE you to live out your passion – EMPOWER you to have more faith than fear – EQUIP you to live a purposeful life that becomes so contagious it affects the world around you.
 'JOIN THE TRIBE TO CHANGE YOUR VIBE' –